1904 Wine Bar & Kitchen is the perfect location to relax by the Falls while enjoying the best of Niagara's Wine Region in one location.
You and I Paint Night
SATURDAY June 11 · 5:30-8:30pm
Sip & Paint in the quaint courtyard at the Old Stone Inn Boutique Hotel while listening to the ecletic stylings of violinist Sofia Spilberg. Unleash your inner creativity, on a fully guided art experience.
Canadian five-piece band, The mandevilles are back with their new single, "Fading Colors in the Northern Lights". "Lyrically, it's a bit ambiguious," lead vocalist Serena Pryne nods, "but I love songs that leave room for the listener to make up their own minds about the story."
Sofia Spilberg is a professional violin artist from Toronto playing her own unique sets of pop, classical, house, dance, Bollywood and fusion music. A versatile violinist, Sofia lives with passion to perform instrumental music before an audience and to share her exceptional style with people.
Afternoon Tea Time
FRIDAY to SUNDAY · 12-4pm
Join us for a lovely cuppa, finger sandwiches, cheeses and house-made scones and pastries. Take away tea for two is
available for pre-order with payment.
Blunch Club
SATURDAY & SUNDAY· 11-3pm
BLunching combines the best of breakfast and lunch, including a mimosa, main and a sweet to finish. Choose a dining dome or cabin for the perfect winter setting.
Hi there! Welcome to Old Stone Inn Boutique Hotel, where the woof pack is welcome!
I love getting away with my humans, smelling new smells, loving the amenities, nice water bowl, cool treats and yes if I behave a doggy dinner in Stone Square. There are great places to walk and that big water fall isn't far!  To book please call or book a pet friendly room online! It's March; time for a break!
Celebrating experiences since 1904. Every day of the week can be a special occasion. It's time to make up for the last two years – indulge.
Food & Beverage Credit $100
Complimentary Room Upgrade *subject to availability
Overnight Parking
Sweet Welcome Amenity (Bottle of Sparkling and a Celebration Cake upon arrival)
Late Checkout (subject to availability)
Kick off summer!
This month, purchase a $50 Food & Beverage Gift Card with your accommodation & receive $75.
We love social & the 'gram ❤
Almost as much as we love puppies, designer shoe sales and cocktails with umbrellas… Please join us on our channels, be a friend, like, love and tag #OldStoneInnNF and we will share the love right back.
Dream of guest blogging for us? Please fill out the contact form and share your social channels, and you may be invited to an ultimate OSI experience as our guest.
Did you know… We are Niagara Falls top instagrammable hotel!
Floral Wall Mural
Courtyard : Photo Bench
Courtyard : Cabins & Domes
Alpine Barrels
Earl Grey Tea Room Moose Head Wall
Chef's Table : intimate, rustic architectural atmosphere
and more!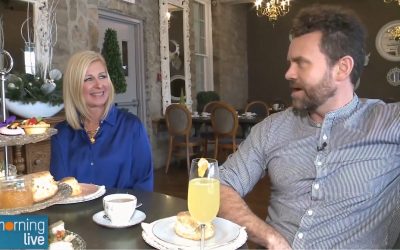 CHCH Morning Live visits with Ann Marie at Old Stone Inn Boutique Hotel in the Earl Grey room for afternoon tea.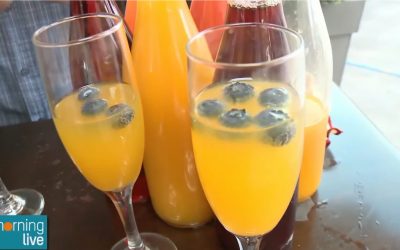 https://youtu.be/hTe7M_lUok0
https://youtu.be/Eh5XFq6yDD8